Access your profile ⇒ Expatriate and Non-Resident - Resident in France - Person at medical risk - Sportsperson or Profession at risk 
---
Expatriate or Non-Resident Loan Insurance 
Valorama specializes in the selection and implementation of insurance delegations (loan insurance) for foreign or expatriate borrowers, and generally any investor located outside France. Indeed, banks are not used to either in terms of coversor in terms of remote processes (requiring responsiveness and multilingual staff) to cover these customers in a satisfactory way. International is our passion and we have implemented techniques adapted to meet our atypical or simply global customers.
Remote aplication, in the language of our customers 
Our processes are done remotely 
in "online" membership, almost immediately
in membership via email exchange, in a very efficient and reliable way.
we assist our customers from A to Z in the process in English, Arabic, Russian, Italian and Spanish.
Simplified medical
Most of our loan insurance contracts allow you to enrol on a simple medical declaration
Membership without medical examination possible up to 1M€ per insured before 45 years old
Membership without examination possible up to 500K€ per insured up to 55 years old
when it is necessary to use tests, they can be done abroad, at your usual centre in your place of residence or at one of our privileged centres, in English.
Selection of contracts by multi-criteria
In order to ensure that our clients have the most competitive contracts on the market while taking into account the international aspect of the clients, we select the contracts using powerful comparators (similar to the comparators of well-known Internet platforms but offering more contracts because our international clients have actually higher requirements, particularly because of their travel and residence evolving over time. Then we classify them according to the following criteria:
Rate / age ratio
Irrevocability of the contract to cover in any country, in particular
Easy to set up remotely
Feasible in-country reviews
---
Loan insurance for people residing in France
Optimize the cost of credit insurance
Loan insurance in France represents a significant part of the overall cost of credit and, as such, the best price must be sought by comparing market offers. Because insurers can charge rates that are coversequal, ranging from one to three times higher. With a powerful comparison tool, Valoramacompares contracts approved by banks to select the best quality/price ratio.
The laws LagardeThe laws, recently reinforced by the Hamon Law and the Bourquin Amendment, now require banks to allow you to choose the loan insurance of your choice without any adverse impact on the terms of your loan. Bankers call this insurance delegation.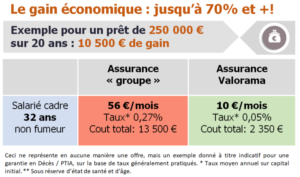 Obtain the covers adapted ones by respecting the requirement of his bank
Loan insurance coversin France offers a coverage required by the bank but which represents above all a real provident, if only the right contract is selected. It is, in the event of illness (repayment of installments), protection of your expenses, and in the event of death, protection for the family or heirs (repayment of debt).
For the same price, there are considerable differences between contracts on coversessential items that must be taken into account. This requires the advice of a professional to quickly decipher the subtleties and not to fall into the trap of contracts that are too discounted and ultimately unsuitable (which does not reimburse in the event of a claim). It is possible to earn 70% on your insurance while having the best coverspossible! 
Analyzing a contract and finding the best when struggling to obtain credit is not easy for the borrower. It is even sometimes difficult: when banks put pressure on you to suggest that using external insurance will take longer or be less qualitative... Quite the contrary. Contracts now offer packages of coversidentical or even superior to banking contracts but above all they are available at Valoramamuch faster timescales: we can avoid examinations up to 1 million euros per insured, do our processes in immediate enrolment online or via emails.
---
Loan insurance for persons with medical risks
People with so-called "aggravated" pathologies sometimes realize (too late) that it is difficult to find an insurer capable of covering them. Indeed, this research requires very special attention and a slightly more intensive approach so that the medical advisors of insurers approach risks in a serene and favourable manner. Such insurance is not found in an emergency: in doubt, insurers will prefer to refuse a risk rather than accept it in a hurry. ValoramaWe know how to work on these files in a sustained manner in order to avoid as much as possible the refusals, postponements or exclusions ofcovers, which would jeopardize the operation dear to our clients. As a specialist in loan insurance, we have long developed effective processes for seeking coverage for aggravated medical risks. In this type of case, we propose:
Two different processes depending on the customer's level of need. 
Valorama can prioritise your file and apply to several insurers in a single process. This allows us to concentrate our clients' efforts to the maximum and to consult a maximum number of insurers in a minimum of time and medical formalities. This formula is very efficient to obtain 1) all or a maximum of the coversrequired by the bank (because this is the crucial problem) and 2) while being sure to obtain the most competitive rate. The large number of studies with different doctors often results in good rates. 
Ask us for a quote and select "multi-study" as the objective at the bottom of the online form
---
Loan insurance for athletes and at-risk professions
Risky professions
Among our many selected contracts, we offer loan insurance that accepts our clients regardless of profession, or that is open to covering so-called "risky" professions.
Professional or intensive sportsmen and women
The practice of sports requires a perfect consideration so that your passion or profession can be perfectly covered. Generally, the most aggressive contracts in terms of price exclude intensive sports practice or the practice of so-called high-risk sports. This does not imply, as customers generally think, that specialised contracts are more expensive, they will just be selected with other criteria and therefore better adapted. The selection of the contract is therefore crucial so that you have the best price with a total consideration of your passion.