New usury rate: consequences for borrowers
The usury rate is supposed to protect the borrower against excessive rates when applying for a home loan from a bank. Every quarter, the Banque de France analyses the average effective rates charged by credit institutions and determines the threshold that should not be exceeded. The TAEG (annual percentage rate of charge), which represents the total cost of the loan, must be below the usury rate, otherwise the loan application is refused.
On 30 September, the usury rate was lowered again. This maximum rate beyond which a bank is not allowed to lend has never been so low. However, this may penalise many households who do not benefit from the best interest rates or a competitive loan insurance rate.
Usury rate for real estate loans 2021Q4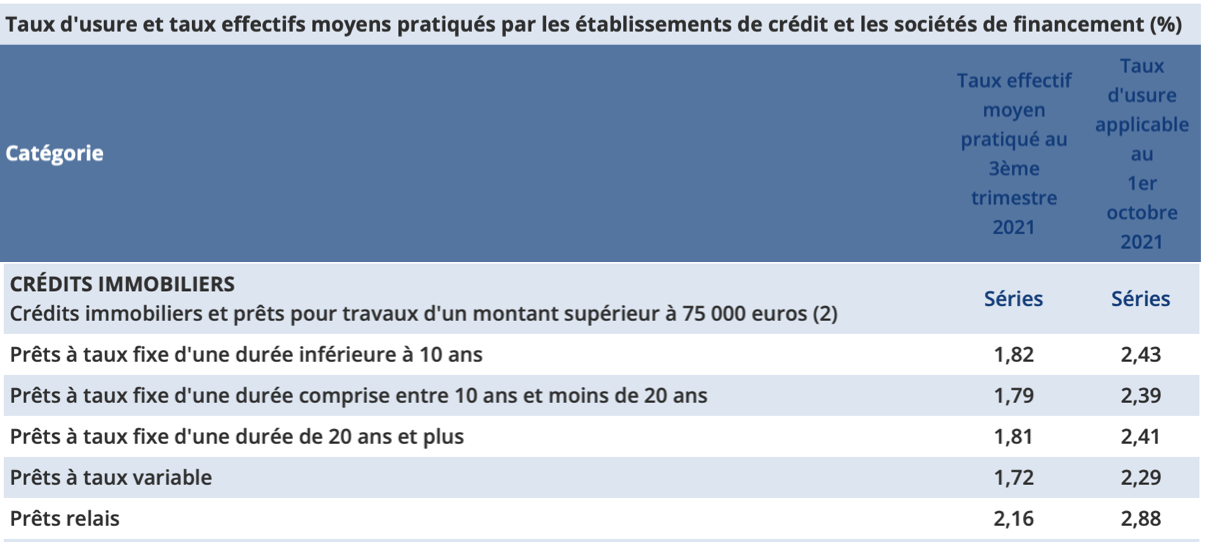 Source: Banque de France
As a result, several categories of borrowers are at risk of having their applications rejected because they are likely to exceed the usury rate. For example, senior citizens, borrowers with an aggravated health risk, those with a dangerous job or those who practice a risky sport. These types of borrowers are often subject to additional premiums when taking out mortgage insurance, which leads to a sharp increase in their TAEG.
Representing a large part of your crédit immobilier (between 30 and 50%), loan insurance can be the cause of exceeding the usury rate. However, it is possible to reduce the TAEG of your loan by leaving the group contract systematically proposed by the bank and by delegating the insurance to an insurer that is adapted to your profile.
By comparing several insurance offers, you can significantly reduce the overall rate of your loan and even make substantial savings.
To do this, you should not hesitate to negotiate with the bank to delegate your insurance and call on a specialised broker, such as Valoramawho will be able to analyse the rates of a large number of insurers, but also select the best solutions in view of your profile.